Industrial Painting In Fort Lauderdale and Orlando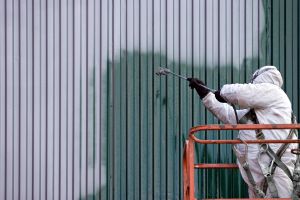 Not just any Fort Lauderdale and Orlando painting company can handle industrial painting. Our proven track record here at Final Touch Solutions LLC. is why so many locals rely on us.
There are plenty of opportunities here in Southern Florida to provide this type of service, but make sure you're only hiring a reliable painting company to complete the job. Industrial painting is unique because it doesn't just have to be skilled and precise, it needs to adhere to strict industry guidelines.
Hire an inexperienced painter and your job won't be completed to code standards. Don't take chances when it comes to work that goes into your industrial business and building. Let us provide you with workmanship that meets your expectations and results that comply with industry requirements.
Benefits of Hiring a Professional Industrial Painter
If you're pondering if now is the time to hire an industrial painting expert for your Fort Lauderdale or Orlando business, you've come to the right place. We're the team to contact for this type of work.
Understand some of the benefits so that you can stop being on the fence and go ahead and make the right choice:
We use state-of-the-art technology to make the most of your job. This is one way we're able to meet high industry standards, as well as the standards of our discerning customers. This plus our skill is how we're able to exceed client expectations.
We work around your scheduling needs. It's not usually possible to operate your business and have a painting crew working, at the same time. We'll arrange to come in during off hours to complete our professional work.
We can even help with professional color consultation. It may seem like an easy task but choosing colors that work with the space, enhance employee morale, and coincide with industry guidelines is anything but simple.
For the best possible results for industrial or commercial painting, you can count on us. For all things related to your industrial painting needs in the Los South Florida or Central Florida area, contact us today.
Our Latest Painting Tips & Articles
Selecting The Right Painter
One of the projects you need to take care of as a homeowners isn't even the type of job that will cause you to break a sweat, unless it's from stress. Picking the right painting company for your Sout […]
Selecting The Right Paint Colors
Sometimes, before even picking your painting company, you may have selected your colors. It's a good idea to wait and work with a pro during a color consultation to make any final choices yet you don […]